About Me
During my four year apprenticeship (from 1969-1973) as a coach painter working for Birkenhead Corporation transport, I also attended Liverpool Faculty School of Art and Design (formally Wavertree Technical Institute) where I studied vehicle painting and industrial related finishes.
At the end of my apprenticeship I reached a Distinction in City & Guilds on the subject of coach painting and a first class pass in vehicle related finishes.
I worked many years for Birkenhead Corporation Transport before moving to Crewe to work for Rolls Royce Motors Ltd where I was involved in rectifying and applying paint in the finishing shop before I moved back to my home town Pensby on the Wirral.
I have over 30 years experience on vehicle finishes and have gained many useful techniques regarding various painting applications.
I've created this website so others may benefit and hopefully guide people to the satisfaction of painting their own vehicles using synthetic coach paint.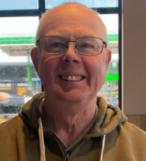 Stephen D Hull


---